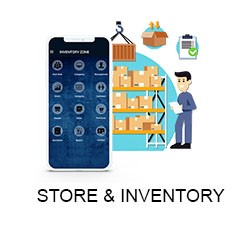 1) Generate a Material Requirement At Site Store
2) Generate a Material Indent At Site
3) Approval Material Indent Form Head Office By Authorized Person ,
4) Inquiry Generate with Vendor Interaction by Purchase Department ,
5) Quotation Generated, by Purchase Department
6) Quotation Compression, by Purchase Department
7) PO (Purchase Order ) Generate With Approval ,by Purchase Department
8) If collect The Material at Then Create a GRN ,(Good Received Note )
9) Requirement Material Issue To Store In charge ,
10) Stock Match & Verification On Physical and System at Site
11) Bill Verification On Received Material Quantity at site

Materials Management (MM) is the system for planning and controlling all of the efforts necessary to ensure that the correct quality and quantity of materials are properly specified in a timely manner, are obtained at a reasonable cost and most importantly are available at the point of use when required. Poor materials management can result in increased costs during construction. Efficient management of materials can result in substantial savings in project costs.

Access Multiple stores at various locations through an integrated platform.
Avoid Redundancy by the one-time formation of items, item groups, item trees and item racks and re use in multiple store sections and Modules.
Define transport rates and store sections for Estimating and Budgeting with predefined units for items. Plan and create your vendor list as per priority for proper evaluation and selection.
The material can be scheduled for the work order of the machines in-store section.

Schedule the material usage and deliveries by understanding the needs of multiple departments through a centralized system.
Multilevel role-based authorization system to rectify the purpose behind material requisitions and prevent the wastage of material and cost.
Define timeline and alerts to Approve and Reject material requests for optimizing the productivity of project Completion.
Avoid wastage and Increase efficiency by accessing multiple stores database from a centralized point leading towards reusability of material and reduced project costs.

Inspect the received and pending items on the basis predefined parameters, Generate and send the GRN from wherever you want.
Link Purchase Order to GRN.
Analyzed Reports like Material wastage report, Monthly Item Comparison, GRN Reports, PO Reports, designed to ease up the process of inspection.

Ease up the procedure of Material transfer and storage by the prior assembling of item racks in-store, at multiple locations by accessing the consolidated database.