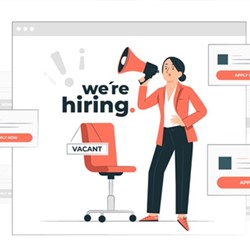 1) Interview Call Latter
2) Interview Arrange
3) Offer Latter , Appointment Latter Creation,
4) Daily Staff Attendance(In & Out Time)
5) Staff Performance Knowledge
6) Taxation Paid (PF,TDS, ESIS,PT etc.)
7) Month Salary Creation (After Attendance approval)
8) Leave Polices
9) Pay Slip Generated
10) Salary Distribute
11) A/ C Posting,

Designed to keep your widespread workforce informed about the transition, support awareness and adoption in the organization, all the while fostering employee performance and Engagement. Personalized bespoke Strategic leave Schedules. Real-time availability and inspection with anonymous Attendance management. Secured and centralized employee records management. The assembled workflow of payroll through self-serviced employee interaction.

Keep a track of Workers on the field.
Categorize the employees as Temporary and Permanent on the basis of their skills and allow them jobs.
Track daily wage workers and their safety.
Add and search employee from anywhere on a single platform.
Manage the daily shifts of employees at your finger tips.
Daily and monthly attendance management for the Permanent and Temporary Employees.

Access the workers present today at real-time.
Manage In time and Out time of an employee to manage his work performance and stress levels at field.
Real-time on duty approvals related to In time and Out time.
Add overtime and multiple overtime calculation.
Manage attendance month wise, day wise, and employee wise with summarized attendance reports.
Collaborate the Employee punch machine data and access it month wise and employee wise

Allot leaves to employees as per there Department and designation.
Allot and deduct leaves on a monthly and yearly basis.
Keep a track of application for leaves and keep a substitute employee ready beforehand.
HR can approve and reject leaves from wherever you are.
Create a salary on the basis of leaves taken and leaves transfer.

Add loan and advance amount as per the employee's interface.
PT deduction, TDS deduction, TDS exemption.
Salary Calculation and Salary list.
Tour planning and expenses.
Approve and reject advances.
Adjust reimbursement money.
Pr-process salary for employees with short hours deduction amount, Leave process Half day and Full day leave verification, Incentive calculation, Leave transfer, Leave encasement, Leave allotment through attendance.

An employee can create and access his/her own profile in real-time.
View all the necessary documents related to Appointment Letters, Leaves, Resignations, Agreements, etc.
An employee can apply for leave applications and keep a record of leaves taken with proper reason and substitute employees.
Leaves, Over Time and On Duty will be authorized and approved by the supervisor.

Specify employee category as per their skills and jobs.
Manage employee attendance daily or employee wise.
Calculate salary for daily wage employees with the help of working hours and shifts.
Leaves, Over Time and On Duty will be authorized and approved by the supervisor.
Keep a track of employees working on a field.
Custom forms so that every time a visitor or contractor attends your site they must provide permit information and details regarding the purpose of their visit, along with confirmation that they have been site inducted.
Candidate registration and CV applications.
Classify the candidates if they have appeared before in placement.
Schedule the Interviews.
Send SMS and Alerts to Employees for interviews.